A new Cedefop publication presents the analytical framework for developing upskilling pathways for low-skilled adults. The framework aims to support policy-makers and stakeholders in designing and implementing flexible and inclusive upskilling pathways.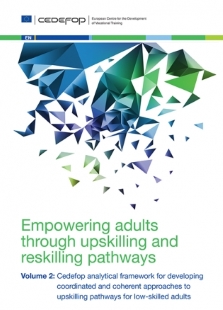 This report is the second volume of Cedefop research on empowering adults through upskilling and reskilling pathways.
The framework is built around important systemic features needed for a coherent and coordinated approach to upskilling. It is grounded in a lifelong learning perspective and focused on the empowerment of the individual learner/beneficiary. Unlocking this potential calls for a renewed approach bringing tailored training offers together with guidance services, validation and recognition of prior learning, and all other VET-related supporting measures, in a coordinated manner and coherent strategy.